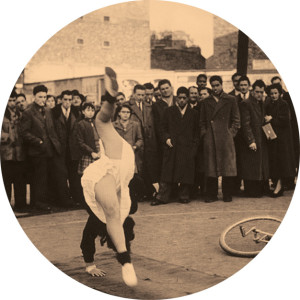 Daze Maxim -Into The Box
AS-02 / 12″
On Assemble Music's second release, Hello?Repeat co-founder Markus Manowski aka Daze Maxim takes us on two extended house trips to destinations unknown.
To hear the dusty bazaar ambiance of 'Can't Go To The Box' is to imagine the metalwork of Manowski's long back catalogue left out in the desert for a decade, any sharp edges gently softened by the years, its sheen now tinged with rust: check the weary riff nonchalantly threaded through the track's centre. Only experience can produce this balance of refinement and grit, with precisely controlled track-length modulations in tone loosened up by a casually shuffling beat. As either a warm-up or a cool-down, it's a one-way ticket to different, unexpected climes.
You might think yourself in more household territory with the flip's rolling rhythm section, but as the title makes clear it's difficult to stay grounded. The elements on 'Orbiting Closely' gradually interlock to create the kind of percolating trap you'd expect to emerge from Chile, not Düsseldorf. Uneasy snippets of sci-fi film dialogue are ensnared in the web, mirroring the plot twists in the track itself.